Bandhavgarh National Park: It is also known as white tiger country; this is a small national park, compact yet full of game. The forests of Bandhavgarh are most deciduous. The density of tiger population at Bandhavgarh is the highest known in India. It is equally rich in bird life, boasting of over 200 species. The park derives its name from the most prominent hillock of the area, which is said to be given by Hindu Lord Rama to his brother Lakshmana to keep a watch on Lanka. Hence the name Bandhavgarh (Brother's Fort).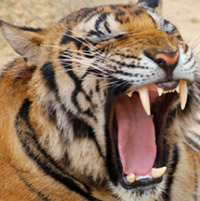 Prior to becoming a National Park, the forests around Bandhavgarh have been maintained as Shikargaha or game preserve, of the Maharaja of Rewa in 1947, The park has a large breeding population of leopards, and various species of deer. Maharaja Martand Singh of Rewa captured the first white tiger in this region in 1951. Rewa State was merged with M.P (Madhya Pradesh). Bandhavgarh came under the regulation of M.P. Covering 448 Sqm., Bandhavgarh is situated in Umaria district among the outlying hills of Vindhya Range. Bandhavgarh National Park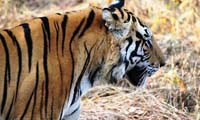 Three more ranges, namely Khitauli, Maghadhi, and Panpatha were added to Tala range (the original Bandhavgarh National Park) to extend the area of Bandhavgarh to 448 kmē. As Project tiger extended its activities and area of influence, Bandhavgarh was taken into its folds in 1993, and a core area of 694 kmē was established including the previously named ranges and the Panpatha Sanctuary along with a buffer area of 437 kmē which was declared as the Bandhavgarh Tiger Reserve..